Style #M2013YGC
African print T-Shirt Description
• This is a black t-shirt with African print applique for the pocket and sleeve cuffs.
• Comfortable and soft cotton t-shirt
• 100% African print wax applique 
• Made in the USA
*Clearance items may only be returned for an exchange or store credit. A refund is not permitted.
Care Instruction:
Machine wash cold. Use mild detergent.
Do not bleach. Hang to dry. Iron if needed
* The African print on the t-shirt you receive may vary slightly from the product image. It is the same fabric but may be cut in a different part of the print
Model: Height: 6' | Wear Size: Medium
Customer Reviews
Filter Reviews:
shirt
quality
company
size
Shipping
items
sleeves
customer service
African
material
Irene A.
United States
Lamarcos
United States
05/24/2020
Loved all my products
D'iyanu products are amazing and I get a lot of compliments wherever I go. What makes it better is that I travel in a lot of indigenous countries and I have yet to go to one and someone not compliment me on it. Additionally, I am happy that it is black-owned company that also reflects West African culture and heritage. Much blessings!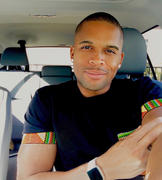 Nelson B.
United States
04/29/2020
Nelson Blackshear's Review
I can't remember how I came across this brand but I'm glad I did!! The service and quality is top notch and you can tell that care was put into their clothing products. I also receive my items within days of ordering! Now lets get to the African theme. I'm so happy to see a Black Owned store that is rooted in African themes. As a Black Man I appreciate this company on levels that far exceed fashion. We finally have a clothing company that we can truly call our own and to where it's intentions can't be questioned because everything about it is so authentic. I have 8 beautiful black sisters whose shades range from light to dark and to see a Black Woman as the founder of this company is both admirable and inspiring. I've shared information about this company to them and I hope that they will not only support this company but use Adesola Elabor as an example and as an inspiration for themselves! Additionally, I'm at a point in my life (29 yrs old) where I'm both eager and curious about my African roots. I want to know where my ancestors came from and what my original name is. Call it God, the Universe, or the Law of Attraction but I came across this company at the perfect time because I can now wear something that represents me and walk tall and proud! Thank you for you products, services, and giving us something to aspire to!!
Willie B.
United States
02/03/2020
Super Sunday
First of all I'd like to say that, I was the best dress Sunday at the super bowl party. I wore the black Seun African T-Shirt with the (Y/G/C) pocket, my D'IYANU Cap to top it off Everyone loved it on Super Bowl Sunday!!! I was superb The shirt fits very well, the size was perfect for me.
Keith C.
United States
01/23/2020
Support for the brothers
I saw the very end of D'IYANU's presentation on Shark Tank and I decided that I'd buy a shirt if the brothers didn't get a deal. I found your website and I bought two shirts. I've got several compliments for them. I wish you much success!
Staci K.
United States
01/17/2020
He loved it and so did I!
Came across this site on instagram and loved what I saw. First time purchasing from this company and I couldn't be more pleased. The fit on him was amazing and it looked just like the photo. Definitely will be back for more!