Afe African Print Button-Up Sweater Dress (Indigo Red Kente)
FREE

Shipping
on orders $85+
Style#1076IRK
Impress all your friends and family in our gorgeous Afe African print button-down sweater dress in indigo red kente. The feminine design of our long-sleeved dress features a flattering scooped neck cut, side slits, and a detachable sash that can be used to display your curves. Effortlessly looking charming with the addition of your favorite heels or boots.
Description:
Button-up Dress
Detachable Sash
Long Sleeve
Side slits
45% cotton/55% acrylic
Designed in the USA, imported
Care Instruction:
GENTLE COLD HAND. WASH SEPARATELY. DO NOT BLEACH OR SOAK.
Model:
Height- 5'7 | Bust- 36" |Waist- 28" | Hips- 40" | Size Small
Customer Reviews
Filter Reviews:
compliments
quality
dress
purchase
colors
14/16
Di'yanu
quality material
sale
duster
Mtlshopper

Canada
03/07/2021
Beautiful dress, but Sizing off and order, purchase and customer service experience not great
I have followed D'Iyanu for some time, but was not quick to purchase because of the low Canadian dollar. I had many BHM events by Zoom and wanted to wear more casual wear from a Black owned business, so D'Ianyu met that requirement. The purchase experience was disappointing. I emailed Diyanu's customer service to ask questions about the fit of a few items. No one responded. I would normally not buy from unresponsive customer service, but as this is a Black owned business and I was buying during a very busy period, BHM, I decided to overlook that. Based on the previous reviews, I thought I could figure this out on my own and decided to go ahead with a few purchases. After purchasing online, I was not sent a receipt by email confirming my order, but a couple of hours after the purchase, I was sent a tracking number from Fedex. For Canadian customers, the duty was much higher than anticipated as I had to pay extra duty when it arrived. I don't recall reading that when I purchased this and was not impressed that this important point was omitted at the time of purchase. I bought a sweater and t-shirt and this dress. Fed ex was a nightmare and I was on the phone for 30-45 minutes trying to get my order after paying duty. There was reportedly an attempt at delivery made, when I was never contacted and even before I paid the duty. The poor customer service and extra charges will not provide any ongoing customer loyalty without a good explanation and an apology. The product arrived at warp speed - I think a day or two after ordering. I was concerned that the packaging was a bit lightweight as the label had water damage and the ink from the label stained the package, but nothing was damaged in the package and all items were individually wrapped. The colours, print and length of the dress are exactly as pictured and did not disappoint. The dress is a light knit which is not going to keep you warm if you live in a climate with a real winter. It is a good spring or fall dress for a colder climate. The knit is cotton and acrylic, so it is not scratchy. My biggest problem was the sizing and the cut of the dress, but this is a personal preference and comfort issue. This is my first purchase from this brand. I bought an XL, which the size chart says is a size 16-18. I am now a size 14-16 post-COVID-19 with a belly, but I do know my new size as I have purchased other items recently that fit. I have always had a large bottom, which is why I went with the XL instead of chancing it with the L and I wanted a roomy fit. I thought that this brand would accommodate more endowed derrieres and have a better cut. The description of the dress says "feminine design". I had no idea what that meant, but other description have said body con or fitted, words to that effect, so I thought that "feminine" meant less form fitting and a line. Instead, this dress clings and can be body con if you are really curvy or carry some stomach and hip/leg weight. I noticed in the picture that the buttons are puckering on the model, but her chest is 36" and her hips are 40" and she's in a small, so the puckering made sense. When I was that size, I was a medium. I thought that the dress would be fine if I purchased TTS based on the prior reviews. The blue knit sash barely wraps around my waist. I would have to wear shapewear to try and make this work, but wearing shapewear was not the point of buying a comfortable looking dress and is not something I have done in a year. It's a beautiful dress and will work for you if you like form fitting dresses (or if you are not very curvy, it might be a loose fit on you) and don't care about handwashing. I felt I had to size up, but I probably had to go two sizes up to get the fit I was looking for. Unfortunately, I don't see myself wearing this...maybe for a Zoom call since the top half can work if the first two buttons are opened up like a cardigan and I wear a camisole, mock neck or a tank under the dress. It can work for date night too, whenever that happens post-pandemic.
LaToya G.

United States
03/02/2021
The "Wear Anywhere" Dress!
This dress is pure perfection! It looks fabulous with just about any shoe, and can be worn for just about any occasion. To top it off, it feels like it was made JUST for OUR bodies. I love it!
taryn K.

United States
02/25/2021
beauitful and comfortable!!! - head turner
Thank you so much for my dress. It is my new favorite dress. It is super warm and comfortable. I was updated during every process of shipping and delivery. I have receive compliments when I where Di'yanu!!
Marsha M.

United States
McCrea C.

United States
02/22/2021
Vibrant
Fashion & function perfection
Ashley D.

United States
01/27/2021
This is everything
The quality is on point. Thick sweater dress. Nice quality material. I am a size 14/16 and bought a size XL because acrylic material gives a lot and it fit perfect. Do not size up! I will come back and buy the other pattern when it goes on sale. Get it girl! I got compliments from the hubby.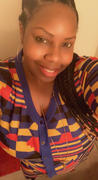 Other Customers Were Interested In