Asabi Women's African Print Layered Bangle Bracelet (Black Sunbursts)
FREE

Shipping
on orders $60+
Style#: 9011BSOS
Our Asabi Women's African Print Layer Bangle Bracelet (Black Sunbursts) is essential for elevating any solid colored ensemble. Pair it with its matching Bisa Necklace to fulfill what your jewelry collection has been missing! 
Description:
5 Strand Bracelet
Hook and Eye clasp
Customer Reviews
Filter Reviews:
bracelet
dress
quality
colors
in-laws
intrest
community
white
shirt
statement piece
Priscilla I.
United States
12/23/2020
TURNING HEADS
This statement piece is going to be the talk of the party. The elegance and colors are vibrant. I planned to pair this with an all black dress so it can stand out on it's own.
Shyla W.
United States
Laural A.
United States
10/01/2020
Really nice outfits
I am so pleased to be able to support the Black community and purchase wonderful outfits like these. I surprised my daughter's in-laws with a stylish shirt for him and matching bracelet for her. Just love the bright colors against the clean white. Thank you.
Ameeya F.
United States
07/02/2020
Simply Cultural
I love this piece, it adds to my overall outfit. Often times I am looking for clothing outfits to match it because of its vibrant colors....thank you D'iyanu
KIrk B.
United States
06/07/2020
Beautiful but too big
Haven't been able to use it because the bracelet is too big. Perhaps I have small wrists. Also, it doesn't lay flat on the wrist. It slants and pulls away from the wrist. While it's beautiful, it's just not a good fit for my arm which means I wouldn't be able to enjoy wearing it.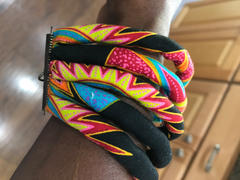 Hattie M.
United States
05/25/2020
Simply Beautiful
I have not worn the necklace and bracelet yet, but I'm very pleased with it. The quality and style is very good. I have a black dress I plan to wear with it, and know . . . . I'll be POPPING!
Other Customers Were Interested In